CYBERISLE 2019 is the Isle of Man government's flagship cyber security event.
Hosted by the Office of Cyber Security & Information Assurance (OCSIA), CYBERISLE 2019 features world-class speakers, solutions and opportunities for interaction between the public and private sectors. The event is free to attend and will be at the Royal Hall, Villa Marina, Douglas, Isle of Man on the 23rd October 2019.
As part of the event, our CEO, Dave Stubley will deliver a talk on Protecting the Enterprise: Business Email Compromise.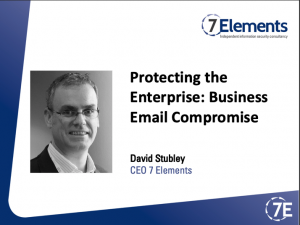 Talk Introduction:
What does a successful compromise of an organisations email system look like and what can we do to protect ourselves?
A recent study by the U.S. Treasury Department revealed that business email compromise scams were costing U.S. companies more than $300 million a month, and the FBI warned that the total financial loss globally due to BEC attacks is at least $12.5 billion. Closer to home: UK's National Cyber Security Centre (NCSC) reported that BEC attacks cost UK businesses £32 million (in 2017/18).
This talk will use real-life case studies from recent incidents to dissect the anatomy of a modern Business Email Compromise (BEC) attack, from current attack trends to mailbox manipulation and exfiltration of sensitive data through to onward compromise of new mailboxes. Building on this knowledge we will then explore easy to implement mitigation strategies.
For more information about CYBERISLE 2019 and to register, please visit the events page here.