7 Elements shortlisted in DL100 Cyber Resilience Innovation of the Year category for second year!
7 Elements are delighted that our Incident Response Partnership has been shortlisted for the second year in a row in the DL100 Cyber Resilience Innovation of the Year category. We are very proud of our incident response service and are excited by the external recognition we are gaining from our peers!
What makes our approach different? In short, no up-front costs and establishing a robust partnership model that delivers when needed. Our partnership clients only ever pay for effort that they use and based on agreed upfront costs, so that there are no unwelcome surprises.
David Stubley, CEO 7 Elements
Positive and robust cyber resilience is now a fundamental business enabler. The ability of organised criminal gangs and motivated attackers to target organisations via the Internet has increased to a level where they are capable of executing attacks with little financial outlay, that can result in huge financial gain for them, while causing both financial loss and reputational damage for the targeted organisation. Even non-targeted attacks can have catastrophic consequences and result in down time and financial loss. Having a robust approach to incident response that is both flexible and proportional is now a key requirement for any organisation doing business online. Our incident response partnership is designed to give SME's access to the same level of incident response services as Blue-chip companies without the high costs.
Recent feedback from one of our clients dealing with a breach that resulted in financial loss:
We engaged 7 Elements to help us while dealing with a recent security issue. We found them to be extremely responsive and able to present their findings with real clarity, together with a comprehensive step by step plan. Which on implementation, allowed us to give confidence to our Board and shareholders that the issues were not only understood but that all measures had been taken to ensure that there would be no repeat in future. We would recommend anyone not to rely solely on their IT provider, but to obtain advice on security from an expert, as prevention is the best cure and compromising on cybersecurity can prove extremely costly. We continue to work with David and his team at 7 Elements and cannot recommend them highly enough.
CFO, Commercial Property Developer
If you would like to know more and get on the front foot when dealing with cyber security incidents, then get in touch with the team.
As of the 12th April 2018, voting has now opened for each of the DL100 categories and we would like to take this opportunity to ask for your vote.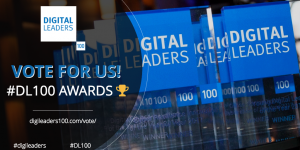 The DL100 winners will be announced at the awards dinner on the 21st June at the Sheraton Grand in London.
More information on our Incident Response Partnership can be found here.