The Scottish Cyber Awards are back!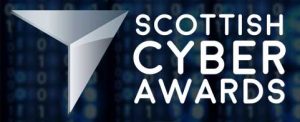 The Scottish Cyber Awards are returning this November and it looks set to be another great night. Last year, the event was a fantastic celebration of the Cyber Security community in Scotland and we hope this year will be even more successful!
As an Information Security Consultancy operating in Scotland, the Scottish Cyber Awards are close to our hearts, as we strongly believe that there is a talented InfoSec community here. We were delighted to be part of this event, both with sponsoring an award and our CEO, David Stubley, acted as a judge for the entries. David said that;
It was difficult to pick winners in some categories because the level of competition was so high, but it is fantastic to help give the winners the recognition that they deserve.
Last year, we were thrilled to be awarded the 'Cyber SME Defender of the Year' award and this year are looking forward to passing the baton on to our successor. As an SME ourselves, we know the important role that Cyber SME's provide, which is why we were delighted to sponsor this award and are looking forward to congratulating this year's worthy winner.
The Scottish Cyber Awards are being held at the Sheraton Hotel, Edinburgh on the 22nd November 2017.