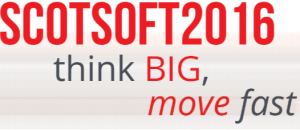 ScotSoft2016, the annual conference for the Scottish digital technologies industry, will take place on 6th October in Edinburgh. The must-attend technology event of the year, ScotSoft2016 comprises the Global Forum, Awards Dinner, the Developers Conference and the Scottish Government Public Sector Briefing. This year 7 Elements are excited to be involved as a main sponsor for the event.
ScotSoft has a packed programme of talks from speakers from all over the industry including Sam Ramji, Troy Hunt and of course, our very own David Stubley will be giving a talk named 'Breaking Bad'.
'Breaking Bad' will focus on just how bad could a breach of your corporate web site be for your organisation. In this talk, David will look at attacking modern enterprise application frameworks and using common exploit code to demonstrate the true impact of a breach, including gaining access to internally sensitive systems and data.
7 Elements will also be running a Capture the Flag (CTF) event to allow delegates to test their hacking skills. It is a security-focused competition with points awarded for gaining unauthorised access to applications and systems within the target environment. The CTF is aimed at all levels, so make sure you come along and put your skills to the test and maybe even win prizes!
More information can be found here.